CORONAVIRUS - COVID 19
Covid 19 HEALTH updates at: www.canada.ca/en/public-health/services....

Quebec Covid 19 daily ALERT STATUS:
www.quebec.ca/.....map-of-covid-19-alert-levels-by-region
Tante Lori update: January 2021
I'm still in business and ready for you when needed. Washing hands, using sanitizer, wearing masks, and social distancing are now a normal part of life.
Let me take a moment and connect with you about the coronavirus in relation to your pets and my services. Be assured that I completely understand if you need to cancel reservations and no cancellation fees will apply.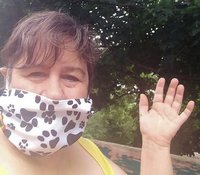 MY PET SITTING SERVICES
I take many precautions daily with your pets and environment while in your home.
I use hand sanitizer whenever I leave and return to my car no matter where I go,
I wash my hands before and after each visit with pets,
I use sanitizer or wipes whenever touching doorknobs and key code door locks,
I gladly and respectivly wear masks when required,
And , I take every precaution to keep myself healthy. My business is important to clients like you who depend on me and I take my role very seriously.
Thank you and please stay well. Ça va bien aller !