L'emplacement officiellement retenu par la ville pour l'AECC est situé dans la zone boisée derrière le Centre aquatique Paul-Pelletier (piscine municipale), 325 chemin d'Aylmer (secteur d'Aylmer). Sa superficie approximative sera de 3 000 m2.
For the CEEA, the Municipality officially set aside the wooded area situated behind the Paul-Pelletier Aquatic Center (public swimming pool) at 325 Aylmer Road, Gatineau. It will cover about 3,000m2.

Merci Beaucoup Club Canin d'Aylmer
Thank You Aylmer Canine Club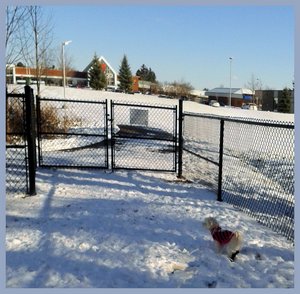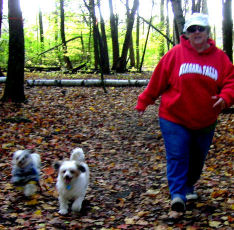 AYLMER
Clôturé & Sans Laisse
Fenced & Off Leash
PARC PAUL PELLETIER DOG PARK
Fraser & Chemin Aylmer
- Derrière la piscine -
- Behind swimming pool facility -
Ouverte Novembre 2014
Opened November 2014
Appuyer par / Supported by
www. CLUBCANINAYLMER.com
www.clubcaninaylmer.com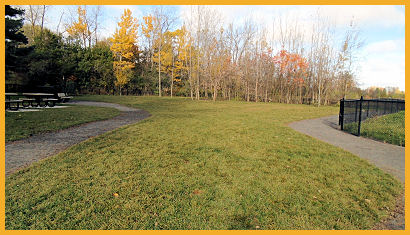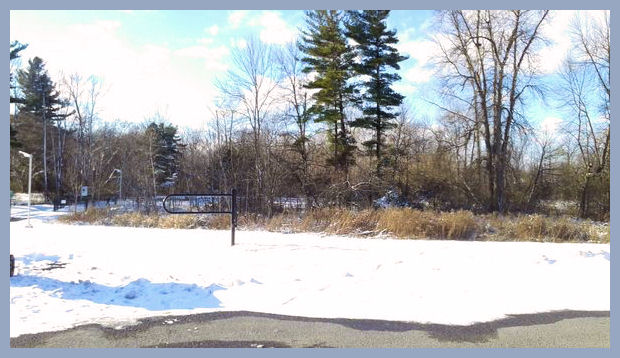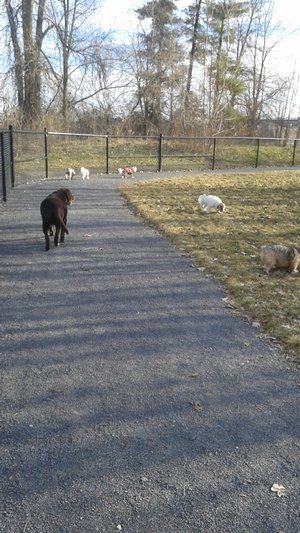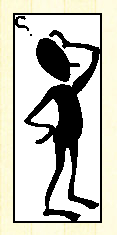 SIGNIFICATION de SIGNES?
SIGN MEANINGS ?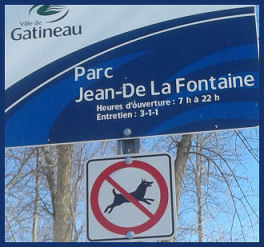 D'aprés le Contrôl Animalier de Gatineau - avril 1 2015
According to Gatineau Animal Control- April 1, 2015
---


Signer/Sign 1
LES CHIENS NE SONT PAS ADMIS
NO DOGS ALLOWED
(with or without leash) Red circle with ANY image of a dog under it)
---


Signer/Sign 2
Laisse requise ~ Leash Required
Green circle with any image of dog with a leash
---


Signer/Sign 3
Sans Laisse ~ Off Leash is allowed
Green circle with any image of dog without leash
---
GATINEAU
Parcs accessibles aux chiens
Parks listed with Ville de Gatineau...

SITE WEB de GATINEAU
GATINEAU WEBSITE
---
OTTAWA


Clôturé & Sans Laisse
Fenced & Off Leash


PARC HAMPTON PARK
Localisé où Island Park rencontre Merivale
Located where Island Park Drive meets Merivale Road
Ouverte Août 2014 ~ Opened August 2014

Ottawa's newest – and biggest – off leash dog run. Located in Hampton Park,
near Island Park Drive and the Queensway, the 9,000-square-metre, fenced-in dog run
is located on National Capital Commission land that is leased and maintained by the city.
Click on map to enlarge ~ Cliquez ici pour agrandir cart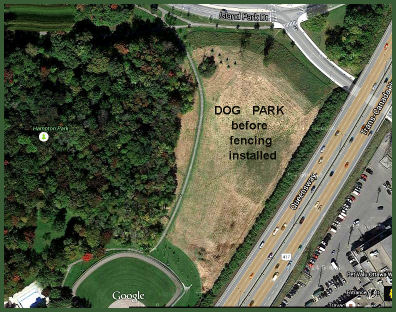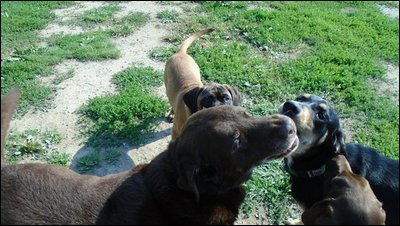 ---
OTTAWA
Pas Clôturé & Sans Laisse
No fence & Off Leash
BRUCE PIT
- RR 23 Cedarview Road -

The Bruce Pit is a generously sized piece of land owned by the NCC.
The actual "Pit" is a disused sand pit that has partially filled with water.
It provides food and shelter for beavers, turtles and many water birds.
The central piece of the property is more open, very sandy ground.
This is one of the areas where groups of dogs meet to run and play, and generally socialize.