Reasons to Get a Hamster - by Mary Helen Berg, Demand Media

Excerpt:

"Compact and quiet, furry and fun, hamsters are an
engaging and easy-to-care-for pet.
If you are looking for a fuzzy friend who is good company, doesn't need much space and won't bark at the mailman, a hamster may be a match for you"

And Things you you never thought to ask about a HAMSTER................

History
The most common Pet Hamster today, the Syrian hamster (later called the Golden Hamster), was first documented in 1797 in a region in Syria. In 1930, a scientist collected a wild female golden hamster along with her off-spring and took them to his laboratory in Jerusalem. In the 1930's several hamsters were sent to laboratories in the UK and USA Finally around 1945 hamsters were introduced as pets.

Physical Traits
Sharp pair of upper & lower front

teeth growing continuously throughout life

so they must be regularly worn down. (Be sure to have something in their cage for them to chew on)
Hamsters are very flexible, but their

bones are somewhat fragile

.
Extremely

susceptible to rapid temperature changes

and drafts, as well as extreme heat or cold.

Poor eyesight

; they are nearsighted and colorblind
They use their

sense of smell to distinguish

between the sexes, and to locate food.

Sensitive to high-pitched noises

and can hear and communicate in the ultrasonic range.

Food hoarders

carrying food in their spacious cheek pouches to their hidden storage chambers. Their heads double, or even triple in size.

Protrusion of Eyeball (Eye Bulging)

in Hamsters: To PREVENT, promptly separate fighting hamsters and

learn the proper way of handling these small animals to reduce the risk

.
Social Behavior
It's important to find out just what kind of hamster you have to make sure you give it the correct environment to reduce stress.
Most hamsters are strictly solitary

. If housed together, acute and chronic stress may occur, and they may fight fiercely, sometimes fatally.

Dwarf hamster

species may tolerate the same species.

Russian hamsters form close

, monogamous bonds with their mates, and if separated, they may become very depressed. This happens especially in males. Males will become inactive, eat more, and even become depressed.
Reproduction: Hamsters become fertile at different ages depending on their species.
Both Syrian and Russian hamsters can begin reproducing at a young age (4–5 weeks old)
Chinese hamsters at 2 to 3 months of age
Roborovskis at 3 to 4 months of age
Lifespans in Captivity - Average
Syrian hamsters - 2 to 3 years

Russian hamsters / Dwarf hamsters - 2 to 4 years

Chinese hamsters - 2

1⁄2

to 3 years.

The smaller Roborovski - 3 years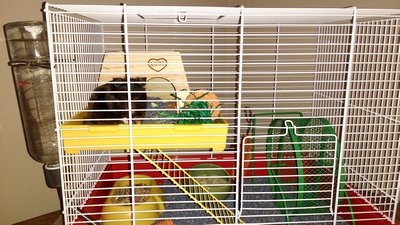 Environment
All hamsters are excellent diggers, constructing burrows with one or more entrances, with galleries connected to chambers for nesting, food storage, and other activities. A burrow includes a steep entrance, a nesting and a hoarding chamber and a blind-ending branch for urination.
WHY DO PEOPLE LOVE THESE TINY CREATURES?
We just can't resist traits like warmth, cuteness, fluffiness, cuddliness
and they make us laugh!
Another Fun site with Tons of info on Hamsters ....… Hamsterhideout.com