DOGS and CATS
A WEALTH of information at:
http://pets.webmd.com/features/pet-winter-safety-prepping-your-pet-for-winter-weather
all of what I say below are excerpts from there… PLEASE jump to their site for advice I think is excellent to consider.
As they say.. their fur is not enough to protect them from our northern winters. Especially if they live in our homes most of their little lives. We have to take into consideration that they are in most cases not built for harsh winters and are not accustomed to living in the ice, snow and freezing temperatures.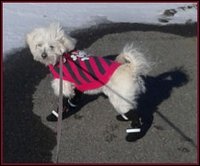 I have a client that I walk everyday(Squishy). The ice and snow hurts her paws and stops her from getting the exercise, fresh air, and neighborhood sniffing that she needs. Today was the second day of her wearing snow boots (expensive ones- $45). She now runs and enjoys her full walks again. You may look at this little Maltese and with her pink sweater, pink coat and black boots and laugh… but she's laughing louder cause she's back out having fun again.
Some dogs ARE built for the snow.. lots of fur.. big feet with furry padded paws. But others are not and some just don't know when it's time to come in from the cold. It's up to us to make those decisions for them. LOL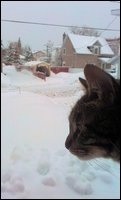 Another thing I learned from this site is that the salt and other chemicals that get dumped on the snow and ice in the winter (along with anti-freeze) can be very toxic to our dogs and even a LITTLE BIT is DEADLY to CATS.
We need to be extra conscience of anti-freeze on the ground!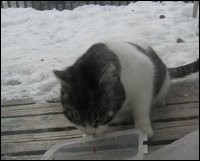 Two more things that stood out to me personally when I read this site were....
Cats outdoors will find anywhere warm to lay even if it's near a car engine! Bang on your car hood each time before you start your car. You could save a life!
For stray cats, make a covered box with blankets for them if you can – details in the site.