Fenced DOG PARK at
HAMPTON PARK in OTTAWA
Located where Island Park Drive meets Merivale Road
- See MAP & DIRECTIONS below.

Grand Opening was August 25, 2014
Ottawa Citizen NewsPaper published August 25, 2014:
"The City of Ottawa officially
opened a new fenced, leash-free dog area and a new multi-use pathway on Monday morning.
News media, and some delighted dogs, were invited to the opening."
READ the entire ARTICLE, watch VIDEO of the opening ceremony and see PHOTOS
Ottawa Community News.com:
"Tails and tongues were wagging on the morning of Aug. 25, as residents and their four-legged friends gathered to open
Ottawa's newest – and biggest – off leash dog run.
Located in Hampton Park, near Island Park Drive and the Queensway, the
9,000-square-metre, fenced-in dog run
is located on National Capital Commission land that is leased and maintained by the city.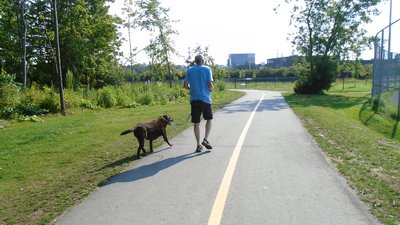 Though the two projects are mutually beneficial, but exclusive in terms of development, the pathway was built from dedicated city infrastructure funds, while the dog run was built using cash-in-lieu of parkland funds collected and distributed by the office of Kitchissippi Coun. Katherine Hobbs.
For local dog owners – who converged on the new run – the opening was the recognition of a community need. The lack of off-leash areas in the west end, especially those that contained rambunctious pooches behind a fence, was a constant concern of residents.
read more: http://www.ottawacommunitynews.com/news-story/4800240-hampton-park-dog-run-opens-to-canine-visitors/
Kitchissipe Times July 11, 2014:
"Jennifer and Dan McLaurin of Hilson Avenue, are original members of the HP Dog group, a group of neighbours who have been walking their dogs together for the better part of a decade. They say the NCC designated certain parks to be off-leash 15 years ago, but Hampton Park was not one of them.
"HP Dog lobbied the NCC for more than 10 years to allow dogs to run free,
inviting [the NCC] to walk in the park, showing them the pathways created by dog walkers through the forest," says Jennifer."
read more: http://kitchissippi.com/dog-issues-hampton-park-ottawa/

Interactive GOOGLE MAPS: https://www.google.ca/maps/@45.3917209,-75.7436023,15z