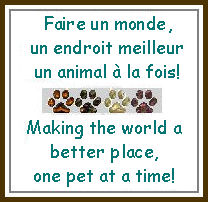 pet sitting

animaux gardiennage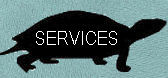 chat gardiennage

guinea pig / rabbit

lapin / cochon d'Inde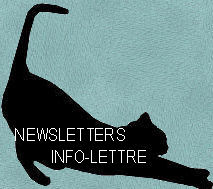 pet videos /vidéos d'animaux

fish / poissons / reptile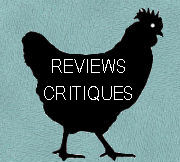 puppy / choit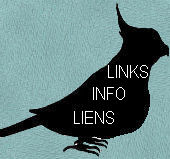 pet of the month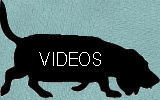 cat sitting

aylmer gatineau quebec


DECEMBER / DECEMBRE 2015 - v3i12
WELCOME to Tante Lori's Monthly Newsletter designed to talk about those questions that pop in our heads from time to time. This newsletter will aim to be brief, fun, informative, and interesting. I hope you find it useful and I welcome your comments and suggestions.

Pet of the Month - MAX

Wrapping Presents with your Cat

Twas the Night Before Christmas (doggie version)
---
PET OF THE MONTH for DECEMBER


MAX

Co-Star in 1966 cartoon: "How the Grinch Stole Christmas"
Max was my first FAVORITE dog. I was only 6 years old when
he co-starred with The Grinch on TV. Every year I take time to watch this show a few times. You can see it yourself at:
VIDEO -- http://www.dailymotion.com/video/x2puuoe

His love and loyalty to his grumpy owner is so endearing to me. Isn't that why they are "man's best friend"? Loyal and loving to the core.
Interestingly enough, I'm not the only one with
an opinion about Mr. Grinch and his dog MAX.......
---
Excerpt from: http://www.shmoop.com/grinch-stole-christmas/max.html
Mostly depicted in drawings (though never the star of the show), the Grinch's dog definitely plays second fiddle to his master's nefarious orchestra of doom.
The dog follows the Grinch around, never letting the reader know whether or not he is fully on board with the Grinch's plans, though we suspect he is not given his long, morose face.
Max is a very minor character in the grand scheme of things, this is true. Sure, he's nothing more than a pawn in the Grinch's exploits, but he is there to give the reader some pause. Think about it.
Why does the Grinch feel so isolated and excluded, when he has a dog named Max who is clearly loyal enough to go along with his crazy shenanigans?
---
Excerpt from: https://www.washingtonpost.com/blogs/celebritology/......
But there is another character in "The Grinch" who already knows what it means to be loyal and kind, who willingly wears a tree branch on his head without one whimper of complaint and who already recognizes that Christmas day is in our grasp, as long as we have hands (or paws) to clasp. That character, of course, is Max the dog
By my estimation, during the roughly 26-minute runtime of "How the Grinch Stole Christmas," Max endures the following:
—The wearing of uncomfortable antler-esque head gear that strips him of his own animal identity, which will undoubtedly result in long-term dog/reindeer confusion. (That's a real psychological condition. Look it up.)
—Having to hang out with the Grinch, who, as established by the show's theme song, stinks in every conceivable verb tense. (Stink, stank and stunk.)
But Max handles it all with good cheer because Max is a dog — possibly a beagle, maybe just a mutt, we're still not sure — with spunk and grace. Do you think a cat would put up with all this? Hell no. If the Grinch were the equivalent of a cat-lady shut-in, this show would be five
minutes long and would consist of the Grinch trying to convince his mewing diva to wear reindeer antlers until he finally gave up and decided to lob snowballs at the Whos instead.
---
Excerpt from: http://www.ruthlessreviews.com/26077/grinch-stole-christmas-1966/
The evil intent of The Grinch is perfectly offset with the well-intentioned, but loyal dog Max, so the audience never turns against the villain, even in the darkest moment of the burglary.
AND... Who could forget The Grinch SONG....

.

"You're a mean one, Mr. Grinch. You really are a heel. You're as cuddly as a cactus, You're as charming as an eel, Mr. Grinch. You're a bad banana with a greasy black peel!

You're a monster, Mr. Grinch. Your heart's an empty hole. Your brain is full of spiders. You've got garlic in your soul, Mr Grinch. I wouldn't touch you with a Thirty-nine and a half foot pole!

You're a vile one, Mr. Grinch. You have termites in your smile, You have all the tender sweetness of a seasick crocodile, Mr Grinch. Given the choice between the two of you, I'd take the seasick crocodile!

You're a foul one, Mr. Grinch. You're a nasty wasty skunk. Your heart is full of unwashed socks. Your soul is full of gunk, Mr Grinch. The three best words that best describe you, Are as follows, and I quote" Stink! Stank! Stunk!

You're a rotter, Mr Grinch. You're the king of sinful sots. Your hearts a dead tomato squashed with moldy purple spots, Mr Grinch. Your sole is a appalling dump heap, Overflowing with the most disgraceful Assortment of deplorable rubbish imaginable, Mangled up in tangled up knots!

You nauseate me, Mr Grinch With a noxious super nos. You're a crooked jerky jockey and, You drive a crooked horse, Mr Grinch! You're a three-decker sauerkraut And toadstool sandwich,With arsenic sauce!"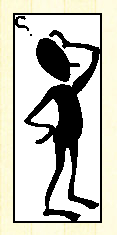 AND now some Christmas HUMOUR from:
http://www.corsinet.com/braincandy/xmaspage.html
---
Wrapping Presents with a Cat
Clear large space on table for wrapping present.

Go to closet and collect bag in which present is contained, and shut door.

Open door and remove cat from closet.

Go to cupboard and retrieve rolls of wrapping paper.

Go back and remove cat from cupboard.

Go to drawer, and collect transparent sticky tape, ribbons, scissors, labels, etc. . .

Lay out presents and wrapping materials on table, to enable wrapping strategy to be formed.

Go back to drawer to get string, remove cat that has been in the drawer since last visit and collect string.

Open box to check present, remove cat from box, replace present.

Lay out paper to enable cutting to size.
Try and smooth out paper, realize cat is underneath and remove cat.

Cut the paper to size, keeping the cutting line straight.

Throw away first sheet as cat chased the scissors, and tore the paper.

Cut second sheet of paper to size - by putting cat in the bag the present came in.

Place present on paper. Lift up edges of paper to seal in present. Wonder why edges don't reach.

Realize cat is between present and paper. Remove cat.

Place object on paper, to hold in place while tearing transparent sticky tape.

Spend 20 minutes carefully trying to remove transparent sticky tape from cat with pair of nail scissors.

Seal paper with sticky tape, making corners as neat as possible.

Look for roll of ribbon. Chase cat down hall in order to retrieve ribbon.

Try to wrap present with ribbon in a two-directional turn.

Re-roll ribbon and remove paper, which is now torn due to cat's enthusiastic ribbon chase.

Repeat steps 13-20 until you reach last sheet of paper.

Decide to skip steps 13-17 in order to save time and reduce risk of losing last sheet of paper.

Retrieve old cardboard box that is the right size for sheet of paper.

Put present in box, and tie down with string.

Remove string, open box and remove cat.

Put all packing materials in bag with present and head for locked room.

Once inside lockable room, lock door and start to relay out paper and materials.

Remove cat from box, unlock door, put cat outside door, close and relock.

Repeat previous step as often as is necessary (until you can hear cat from outside door)

Lay out last sheet of paper. (This will be difficult in the small area of the toilet, but do your best)

Discover cat has already torn paper. Unlock door go out and hunt through various cupboards, looking for sheet of last year's paper. Remember that you haven't got any left because cat helped with this last year as well.

Return to lockable room, lock door, and sit on toilet and try to make torn sheet of paper look presentable.

Seal box, wrap with paper and repair by very carefully sealing with sticky tape. Tie up with ribbon and decorate with bows to hide worst areas.

Label. Sit back and admire your handiwork, congratulate yourself on completing a difficult job.

Unlock door, and go to kitchen to make drink and feed cat.

Spend 15 minutes looking for cat until coming to obvious conclusion.

Unwrap present, untie box and remove cat.

Go to store and buy a gift bag
'twas the Night Before Christmas (dog version)

It was about time for Christmas, and all through the house
A creature was stirring, but it wasn't a mouse
I knew right away it was my wife's little pup,
She thought we were sleeping, and so she was up

The dog was a gift it was coercion, really,
A woman can pout, 'til a man gets downright silly.
And now the wife was snoozing she was really sacked out
She wouldn't have awoke from less than a shout.

Yes, her in her nightgown, I in my BVDs,
We had finally settled down to catch some Zs
When off in the kitchen there arose such a clatter,
I rolled from the bed to see what was the matter.

Away down the hall, my head in a muddle,
I reached the kitchen...and stepped in a puddle.
The glow from a nightlight illuminated the room,
So how come I stumbled over the broom?


I fell in a sprawl, my legs were not stable.
On the way down, my nose hit the table.
My head was a spinnin' and when I came to rest
Four miniature dog feet stood on my chest.


With a lick and a bark, she bounded away,
Into the living room, she ran to play.
More rapid than mouses, that rat terrier ran,
Me on the follow, rolled newspaper in hand.


"Stop, Skeeter! Stop, Dog! Stop, Pup!
Halt, Pooch! Halt, Girl! Oh, come'ere, you mutt!
"Get off the new couch! Now let go of that curtain!
Ohhh...If I ever catch you, you're gonna' be hurtin'"


As winds of a Texas tornado do fly,
She spun round the room, down low and up high.
Then up on the countertop, that puppy went
She stopped for a second. I thought she was spent.

I make a quick lunge, she ducked me and then
Yawned when I dove through the flour bin.
As I drew out my head and was turning around,
She made for the presents, in a single bound.

I was covered with flour, from my head to my toes,
My robe in tatters, and blood on my nose.
A bag full of toys, she grabbed with glee
I nabbed her, I thought, but instead got the tree.


The ornaments, they broke, as they began to fall
The lights, how they fizzled, and that is not all.
When I reached for the plug, to turn the bulbs out,
What flowed through my body, but electricity, so stout!


As smoke encircled my head like a wreath,
That dog held my big toe, tight in her teeth.
"Skeeter," I moaned, "I give up. Oh, Skeet, I give in."
So she bit my swollen nose, and nipped at my chin.


She spoke not a word, but went back to work,
Down came the stockings it took just a jerk.
Then up from the hall, came the sound of feet,
Momma, it seemed was awake from her sleep.


"Now you'll get it pup," I announced with glee.
Then Skeeter walked over and put her little head on my knee.
She looked up at my wife - so innocent - and at me, so, so sad.
And it didn't take long, to know I'd been had.


Then came the wife's voice, so strong and so clear,
"Bill, you leave that puppy alone! You hear!"
And I exclaimed to myself, as they walked out with a strut,
"Don't leave any gifts, Santa just PICK UP THE MUTT!"

'The night before Christmas' was written by Bill McClellan
---
Every MONTH I send out an email
with the link to that month's NEWSLETTER.
If you would like to be notified when each month's edition comes out, let me know by email. I will add you to my list
lori@tantelori.com

Si vous ne souhaitez pas recevoir ces emails nous laisser savoir.

If you do NOT want to receive these emails let me know- I'll remove you immediately
Thank you for your time / Je vous remercie de votre temps ~~~~ Tante Lori .