The dogs voluntarily make themselves vulnerable by "falling" down and exposing their bellies and allowing themselves to be caught when playing chase. They take turns chasing each other. ... Even the dog that ends up on his back doesn't want to stop playing. They will probably take turns with most play-fighting behaviors.
read more at: https://www.akc.org/expert-advice/training/are-they-playing-or-fighting/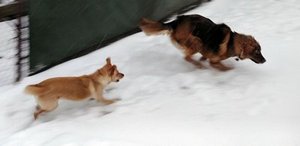 Dogs learn to play when they are puppies in the pack, and often playtime in social groups gives them useful life skills, like play fighting, hunting, or chasing. ... Playing when he is left alone is a great skill because playing can reduce stress and anxiety.
read more at: https://wagwalking.com/behavior/why-do-dogs-play-by-themselves
The Emotions that Dogs Actually Experience. This developmental sequence is the golden key to understanding the emotions of dogs. This means that a dog will have all of the basic emotions: joy, fear, anger, disgust, and, yes, love, but the dog does not experience the more complex emotions like guilt, pride, and shame.
read more at: https://moderndogmagazine.com/articles/which-emotions-do-dogs-actually-experience/32883