As www.101dogbreeds.com says: "The Scoodle, is a result of crossing the Poodle and Scottish Terrier, a medium-statured designer dog popular for its intelligent and loyal temperament."
Here is a brief description to get you started. You can google SCOODLE to find out more.
"... The Scoodle temperament is going to depend on genetics.
Will he be athletic and proud like the Poodle, or independent and spirited like the Scottie?
If your Scoodle takes after his Poodle side, you can expect him to be very brainy with an affinity for showmanship and a love of water.
However, if your Scoodle ends up favoring his Scottie heritage, he could be feisty and self-assured and very playful!"
https://thehappypuppysite.com/scoodle/
Body: Usually a scoodle has a long square-shaped body with short to medium legs just as the scottish terrier whereas its movement patterns or gait is similar to the poodle.
Average height: 8-12 inches at the shoulder
Weight: average 20-25 pounds
Shedding: very low to none
Coat type: Usually the wiry coat of a scottie and with a touch of scattered poodle hair in various places. Medium length and wavy to curly.
Brushing: Best if daily. Low matting of fur but not impossible.
Hypoallergenic: Yes. poodles and scotties are both considered hypoallergenic.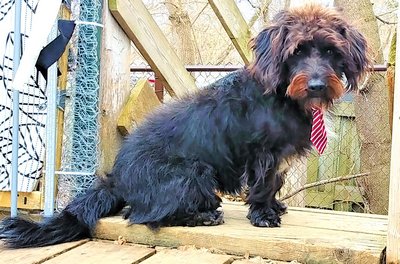 Grooming needs: moderate (basic needs bath, brushing, and nail clipping).
Trainability: Excellent with consistent training. Very smart dog and can get confused if training is inconsistent. Best way is with positive reinforcement.
Good with other dogs: yes with socialization
Exercise needs: moderate to active
Tendency to get overweight: average to above average
Life Span: 12 to 15 years
Temperment: Happy, talkative , emotional, alert, loyal, clever
Tolerance to temperatures: very good
Family pet: Not usually cuddly lap dog - better with older children. Very loyal, playful, and active.
Barking: Very alert and barking not excessive with training and socialization..
Big Talker: Large doggy vocabulary from moans to grunts to barking and everything inbetween.