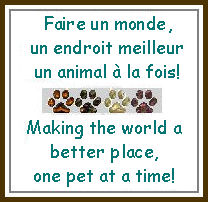 pet sitting

animaux gardiennage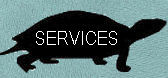 chat gardiennage

guinea pig / rabbit

lapin / cochon d'Inde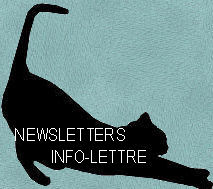 pet videos /vidéos d'animaux

fish / poissons / reptile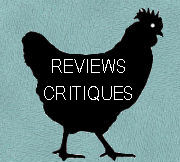 puppy / choit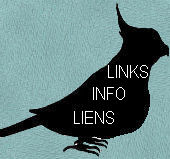 pet of the month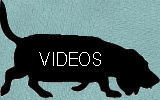 cat sitting

aylmer gatineau quebec

FEBRUARY-MARCH / FÉVRIER-MARS 2015 - v3i02/03
WELCOME to Tante Lori's Monthly Newsletter designed to talk about those questions that pop in our heads from time to time. This newsletter will aim to be brief, fun, informative, and interesting. I hope you find it useful and I welcome your comments and suggestions.

Pet of the Month - DEXTER

SPCA - Deadline is March 31st - April 1st the fee doubles

Dogs and Parks - Where can they go and what do those signs mean?

Treat Toys for Dogs.... Good... Bad ?
PET OF THE MONTH FOR FEBRUARY-MARCH 2015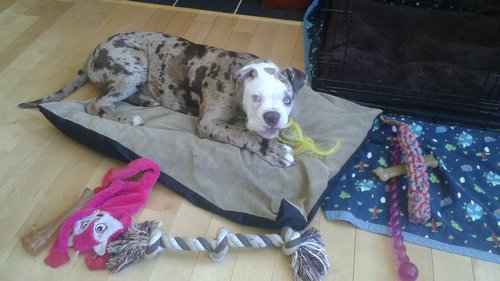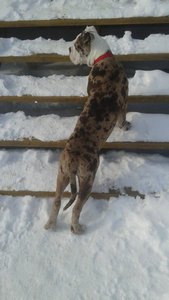 DEXTER
(Alapaha Bulldog - born November 2014)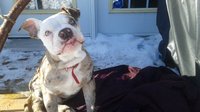 Before you read what I learned about this breed in "books"
take a look at what I learned FIRST HAND in the photos I took.
Dexter's parents hired me the first Monday after they brought him home.
They knew they had a responsibility to this precious soul and hired a trainer (the breeder),
a walker (me), and all the supplies needed.
EARLY training is essential for him since someday he'll be 100 pounds.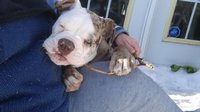 I've been a part of his little life for 3 months now
and have watched him grow and learn so fast!.
I have to say he has won my heart many times over.
Along with being pretty darn smart, he's also very sweet.
Problem is... all that power being run by puppy energy is well... too much love at times... LOL !
I GOOGLED and below is what I found from these 3 sites!
http://www.alapahabluebloodbulldogs.org/faq.php
http://www.vetstreet.com/dogs/alapaha-blue-blood-bulldog
http://www.dogbreedinfo.com/alapahabluebloodbulldogs.htm
This breed, the Alapaha Bulldog, was developed in the southern
United States and may take his name from the Alapaha River in Georgia.
This type of dog was in danger of extinction until a small group of Southerners in 1979 made an attempt to rescue the Old Tymey Plantation Bulldog of the South and founded the Alapaha Blue-Blood Bulldog Association (ABBA) dedicated to preserving this exceptional type of dog.
This dog's ancestors functioned as cattle and pig herders, but the Alapaha Blue-Blood Bulldog is mostly bred now for family protection and companionship.
Body:
Males - 20 to 24 inches at the shoulders and weigh from 70 to 100 lbs.

Females - 18 to 22 inches at the shoulders and 55 to 75 lbs.

The Alapaha is hardy, resistant to disease and requires minimal grooming.
Temperament:
Alert and outgoing with a self-assured attitude.



Alapaha is a very confident dog and has no fear of people. Some aloofness with strangers and assertiveness (not aggression) toward other dogs is not considered a fault.


Tenacious, elegant and aloof

This independent yet loyal breed is responsive to training when properly socialized as a puppy.

The Alapaha enjoys the companionship of family and it will undoubtedly be the most affectionate guard dog you'll ever own.

They are affectionate and loyal, and they thrive best when treated as members of the family.

They are very easy to train.

If socialized and raised properly they will be very protective of their home and master.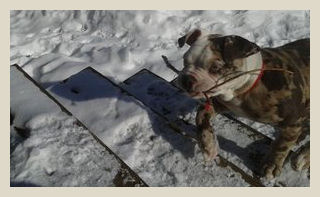 How good are Alapahas with children of all ages (infancy to adolescence) and also do you feel this is too much dog for a family with small children or elderly visitors?

Answer: The Alapaha is an excellent family companion and is especially great around children that reside within its household. A well bred & trained Alapaha will be the most 'affectionate' Guard dog you'll ever own. Extra precaution must be taken through puppy & young adult obedience training to insure that the dog is properly socialized with strangers whether young or old.
Does the Alapaha have inherent breathing problems like the 'English' Bulldog?
Answer: No, the Alapaha is a working dog par excellent! Its ability to run in all types of weather, whether hot are cold is well documented.
Are Alapahas aggressive towards other dogs and do they get along with other animals?
Answer: No, the Alapahas is a territorial breed. This should not be confused with dog aggression. Dog aggression is the unabated aggression to another dog whether it is a threat or not. A well bred Alapaha is usually what you would consider dog dominant. If it perceives a dog to be confrontational it will defend its territory whether it's his/her master or the master's property.
If properly socialized with other animals rather it be farm livestock or the household pet cat or bird the Alapaha can adjust to most environments. The key is early socialization and adequate training.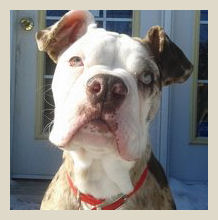 ---
Municipal Dog and Cat license
Deadline -March 31, 2015
April 1st late fees apply !!!!!

Gatineau SUMMARY BROCHURE of Pet By-Laws

Français ~~

English .....OR.....

The ACTUAL FULL
BY-LAW NO. 183-2005 CONCERNING THE KEEPING, CONTROL AND CARE OF ANIMALS IN THE CITY OF GATINEAU
Français ~~
English
---
EXERPTS from SPCA site :
"To conform to this law You can purchase your licences:"
1. Online At: www.spca-outaouais.org In a fast and secure way.
2. By telephone 819.243.2004 Please have your credit card ready.
3. By mail By forwarding a cheque or money order to:
Outaouais S.P.C.A., C.P. 82122, Gatineau,Qc, J8T 6B8
4. In person at
420, boulevard Wilfrid-Lavigne -Aylmer sector

( Place Lavigne shopping centre - behind Galleries d'Alymer Centre),

April 1 to March 28 Monday to Friday 9 am to 6 pm, closed weekends

and

October 29 to March 31 Tuesday to Saturday 9 am to 6 pm.
5. At one of the City of Gatineau service centers
AylmerSector (cash only)
115, rue Principal,
Gatineau (Quebec) J9H 3M2
In sale all year long:
Tête à Queue Salon de Toilettage, 81 chemin Vanier, Gatineau (Aylmer) 819-685-1685

Pitou Minou Compagnon, Pet Store (Aylmer), 203, chemin Aylmer, Gatineau (Aylmer) 819-567-4868
Avoid problems and get your license! If you comply with this by-law, you will avoid the penalties. Otherwise, you will receive a fine that ranges from $100 to $1,000, in addition to the administrative fees.
Does your cat or dog have his license? Owners are responsible for registering each of their animals by getting them licences, which are valid from January 1 to December 31 of that year.
One of the several benefits of registering your pet is that it will be easier to find in case it gets lost. Each licence costs $40. However, if you can prove that your pet has been spayed/neutered, you get a $10 discount off this price.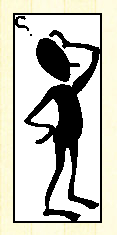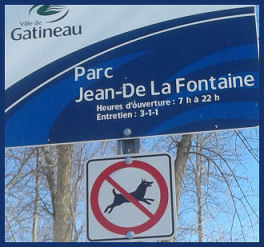 While on my many walks with my clients I pass by neighborhood parks all the time and read these signs designating whether or not dogs are allowed.
These signs can be confusing.
This sign here on the left.
What do you think it means?
RETRACTION: April 1, 2015
In this March 2015 Newsletter I state below that the dog sign with a red circle and dog running under it means that dogs are allowed but on a leash (not to run freely in the park).
This information that was told to me by a rep at #311 service was INCORRECT.
I happened to call Animal Control today to ask for a standard list and pictures of all the signs used for dogs in our parks.
During my conversation with the supervisor, Mr. Cyr, I was informed that I was given incorrect information by #311. He also let me know that he will include this problem with #311 in their meeting with them in a month and to educate them on the park rules.
The RULE IS for all of Gatineau – Animal Control:
Sign 1: NO DOGS ALLOWED (with or without leash)

Red circle

with ANY image of a dog under it


Sign 2: DOGS ALLOWED ONLY WITH LEASH

Green circle

with any image of dog with a leash
Sign 3: DOGS ALLOWED OFF-LEASH

Green circle

with any image of dog without leash


~~


~~


---
And the good news is.... Mr. Cyr let me know that the city has receive many complaints that there are not enough places to take our dogs on walks. The powers that be are in and out of meetings and we can look forward to changes in dog rules to many parks in Gatineau no later than a year from now. Cross yer fingers.
Dog Signs.. Information I was given by #311 on March 24, 2105
I phoned #311 as suggested on the sign. At first the gentlemen that answered said NO DOGS allowed. But when I pressed him further asking, "..then what does a dog with a leash mean?" he was not sure. He had to get off the phone and look up the file on this particular park to find out what this symbol ACTUALLY means. It means that dogs cannot run free in the park.
This sign means... dogs can be in the park but ON A LEASH.I asked him if there is a place where I can find a standard meaning for these signs. He had no idea. I then did a search almost everyday for a week on the internet. I made phone calls... still waiting to get return calls from messages I left. At this date I have no answers. MY CONCLUSION IS... When in doubt.. call #311 and insist they look up the rules for THAT PARTICULAR PARK and not accept their guess at the interpretation of the symbol in question. Make them look up the facts on file.
IF YOU LEARN the interesting things about
own favorite parks let me know.
Include details and a photo of your pooch
I'll add your info to our DOG PARKS page and
announce it in the next month's newsletter.... Thanks! Lori
---
How about some TREAT TOYS?

Excerpt from Modern Dog Magazine .com

http://moderndogmagazine.com/articles/trainers-truth-about-crates/174

Chewtoy (not shoetoy) fixations are good. And the crate is a fabulous tool for turning any dog into a chewtoy addict. A food-stuffed chewtoy such as a Kong, or a Nylabone with some drilled holes filled with wet dog food, low-fat cream cheese or any other wholesome filling, or a filled kibble dispenser will keep a pup busy for hours.

If he isn't ready for a nap when you put him in his crate, he will be after working away on a well-stuffed chewtoy for a while.

Chewtoys keep dogs physically and mentally stimulated and are a wonderful substitute for hunting. Remember: those wild dogs sleep up to 16 hours a day because they are working really hard during the other 8 hours!

Give your dog lots of chewtoy hunting projects—
a tired dog is a happy dog.
(But be sure to decrease regular mealtime calories accordingly.)

Excerpt from Pet Expertise .com

http://www.petexpertise.com/dog-chew-comparison.html

Chewing is very important for your dogs oral and mental health.It keeps his teeth clean, his body exercised and his mind occupied. Having your dog chew on a toy is also important to prevent behavior problems and chewing on inappropriate objects. A dog that has chewed for 30 minutes is busy, contented and then more apt to take a nap than steal your wallet!

However, everything your dog puts in his or her mouth has a potential for harm. He or she could break a tooth, choke, become allergic, get some sort of infection, have trouble with digestion, and probably more things we haven't even thought of.

Despite these risks, we believe that allowing your dog to chew on a variety of objects is a natural behavior that is important to allow your dog to engage in.
In fact, not giving your dog a variety of chews will probably result in your dog finding it's own chews (i.e. your furniture, your shoes, sticks, rocks).


I like this idea - Freeze water in a large bowl or pan with treats and toys inside.

Then let your dog chew on it for hours to get the rewards !

All you ever wanted to know about how to
stuff a KONG and with what?
https://www.aspca.org/pet-care/virtual-pet-behaviorist/
dog-behavior/how-stuff-kong-toy

AND

Canine Concepts in the UK -
How to use a KONG Toy 2014-06-02
http://canineconcepts.co.uk/en/blog/30-how-to-use-a-kong-toy

Your Dog Eat too Fast?
You Just want to be Entertained for awhile?

I have a client who eats so fast that ... well.. lets just say ... she INHALES her food ! LOL
If you know what I'm talking about then you may want to try the solution that her Mommy came up with. With her dinner in this cool treat ball, it takes Mia up to a half an hour to finish eating.

Watch her in action below......


Another great idea I got from Marie-Eve at Pitou-Minou Pet Store here in Aylmer.

She and I worked at SPCA together for a few weeks and I've seen how great she is with dogs first hand. I needed a solution for a big dog with a big mouth (DEXTER).

She suggested the Hol-ee Roller stuffed with a rag rolled up with treats or kibble. It keeps yer pooch busy trying to figure out how to get the treats out of the rag and the ball.

I tried it and by-golly.. it works!!!!! Keeps Dexter busy for quite awhile. The rag eventually gets pulled out but that's the reward too.

Pitou-Minou has a large variety of pet supplies (and toys) and their staff like Marie-Eve is sooo helpful!
---
TILL NEXT MONTH............... LORI
Every MONTH I send out an email
with the link to that month's NEWSLETTER.
If you would like to be notified when each month's edition comes out, let me know by email. I will add you to my list
lori@tantelori.com

Si vous ne souhaitez pas recevoir ces emails nous laisser savoir.

If you do NOT want to receive these emails let me know- I'll remove you immediately
Thank you for your time / Je vous remercie de votre temps ~~~~ Tante Lori .