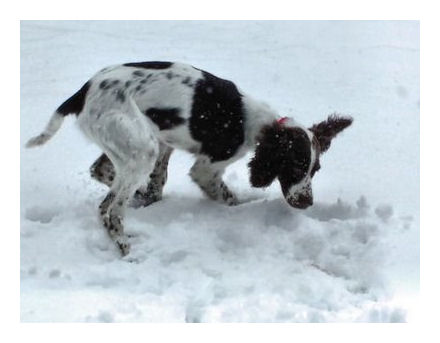 What is a French Spaniel?
According to https://Wikipedia, the French Spaniel (Epagneul Français) is a breed of dog of the Spaniel-like setter. It was developed in France and Canada as a hunting dog, descended from dogs of the 14th century.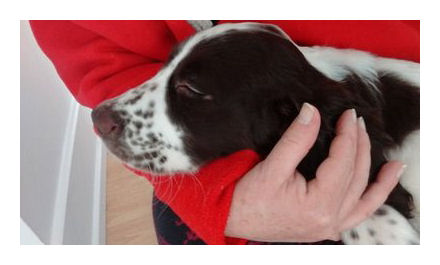 Not a SPRINGER SPANIEL and always confused with an ENGLISH SPRINGER SPANIEL. I researched to find a difference but it seems no one knows why.
Popular with royalty during the Middle Ages, it nearly became extinct by the turn of the 20th century but was saved by the efforts of Father Fournier, a French priest. One of the largest breeds of Spaniel, it typically has a white coat with brown markings. It also has few health issues.
This breed is recognized by Canadian and international kennel clubs but not by The Kennel Club (UK). The American Kennel Club has included the breed in its Foundation Stock Service, the first step to full recognition.
Does it matter what a dog's formal name is or if they are recognized by ALL kennel clubs?
I don't know but Yuki sure is a great dog no matter how you classify her!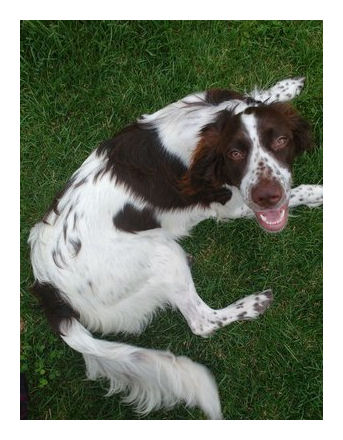 The French Spaniel has a very friendly and outgoing personality and is well balanced and patient.
It is not a naturally aggressive dog, is eager to please and thus can be trained easily.
A dog of this breed will form a strong bond with its master.
Being typically a working dog, it has a high level of stamina and requires exercise.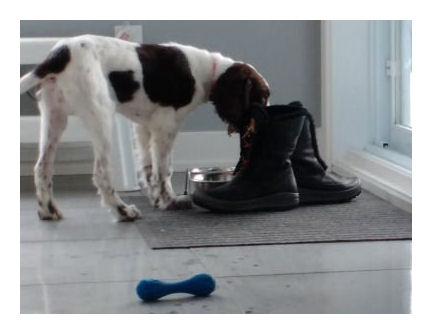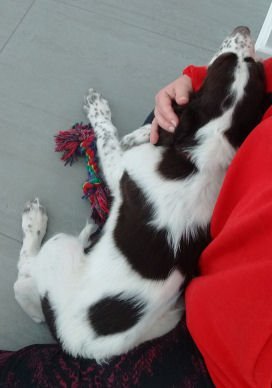 ---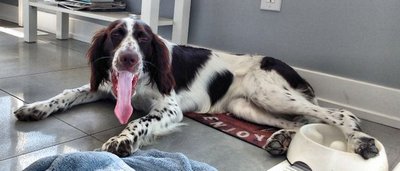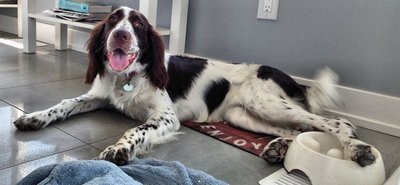 ---
Difference between Cocker Spaniel and a Springer Spaniel.
In the late 19th century, spaniels from the same litter
were divided into "cockers" and "springers."
Both breeds are also known as very friendly, playful, and obedient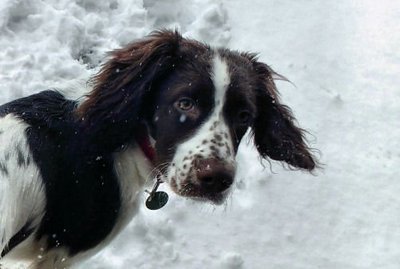 Difference Between Springer Spaniels and Cocker Spaniels.....
(I'm using YUKI'S photos to show her off even tho technically she's not a "springer" -- OR IS SHE??? )
Springer Spaniels are larger dogs used for flushing and retrieving game. The Springer Spaniel was developed as a companion gundog. Springers participate in competitive field trials. The energy, stamina, intelligence, and "rear drive" movement has made the Springer Spaniel one of the most prized bird dogs. The springer needs less grooming.
T
he Springer is gifted with a presence that suggests pride, power, endurance, agility, style, symmetry, balance and enthusiasm. It is a distinct spaniel character
combining beauty and utility. The Springer Spaniel is a dog characterized by a wagging tail whose enthusiasm, happy disposition , adaptability and willingness to please make it an excellent choice for a companion dog. Springers are cheerful dogs with a sense of humor. They are affectionate, good with children and noisy with intruders. They are 'reactors', but most don't bark without a reason. Springers are comfortable at home in front of the fire or out romping through the park after the ever illusive squirrel, bird or ball.
While thriving on the love and companionship of people it must be remembered that they require moderate to high level of exercise. Their loyal, patient, understanding and sweet disposition make the Springer an excellent friend for children and adults alike. They are actively represented in conformation, hunting, obedience, agility, fly-ball, tracking and therapy.

The breed character is merry, alert, and eager to please; the dog should be relatively easy to train for any purpose. They are not overly suspicious of strangers and seem to get along well with other animals and people.
Read more about Springer characteristics: http://dogtime.com/dog-breeds/english-springer-spaniel#/slide/1
---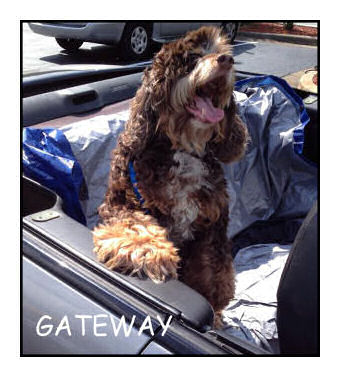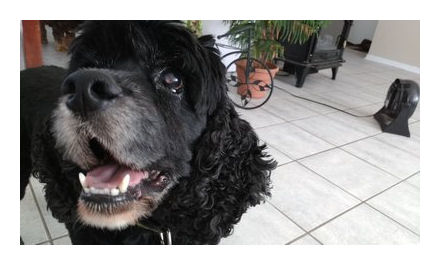 Cocker Spaniels are much like Springers but have less energy, are calmer, and bark much less. Also, cockers seemed to attract more mud (belly and ears closer to the ground) and need regular grooming ... LOL
Read more about Cocker characteristics: http://dogtime.com/dog-breeds/english-cocker-spaniel#/slide/1
---
Info from: https://Wikipedia, the French Spaniel (Epagneul Français) ~~ https://en.wikipedia.org/wiki/French_Spaniel ~~ http://www.akc.org/content/entertainment/articles/8-excellent-bird-hunter-breeds/ ~~ https://www.mumsnet.com/Talk/the_doghouse/1918869-Cocker-or-springer ~~ http://www.esscc.org/breed-info.html